CXO / IT Leadership , Digital Leadership
Gartner Defines New Technology Leadership Archetypes - Part 1
CIO Role Veers Toward Business Executive Responsibilities
Amid the COVID-19 pandemic, significant changes in roles and reporting structures within the C-suite were observed, particularly for the CIO and CISO. These changes were driven primarily by increased digitalization and remote working. CIO roles became strategic and business-centric as the focus shifted to innovation and customer experience. With increased digitalization, we are now seeing new technology leadership archetypes coming into the organization, such as digital CIO and digital business leader.
See Also: Leader's Guide I Breaking Through with Modern Security
The narrative about CIOs being business or strategic leaders already existed prior to the pandemic, "but it was never entailed," said Conrad Dias, global chief digital transformation officer at LOLC Holdings PLC. "They were only engaged with running the business or keeping the lights on to a great extent. Demands from a CIO did not really come in that way with regard to the business."
CIOs were primarily occupied with tasks such as managing IT operations, evaluating solutions, negotiating with vendors and ensuring compliance - "driving the technology from a business perspective," Dias said.
Back in 2016, CIO's role was a "lights-on operation," concurs Khushru M. Mistry, former CIO and senior vice president, Eureka Forbes. "It was contained within the environment of the offices, very secured with perimeter defense systems."
The CIO had to ensure high systems availability and business continuity and oversee routine operations such as backup, disaster recovery, solutions procurement, vendor management and compliance. These responsibilities continue to this day, though many business-facing tasks have been added to a CIO's portfolio.
The CIO role began to change in 2017. With services increasingly being consumed from apps and mobile phones, more attention was given to customer experiences and front-end interfaces (on apps and websites). With the introduction of innovative, digital-led services, organizations embarked on their digital transformation journeys - transforming age-old business processes and revamping the legacy infrastructure.
"Ultimately, companies realized that in order to bring in digital transformation for its end consumers, the CIO had to be more of a sales and marketing person. [They had to be] more of a CFO to understand the financial part of the company; more on the manufacturing side to bring in Industry 3.0 and Industry 4.0 processes; more of a product manager to productize a package and to do more D2C or direct to consumer," Mistry said.
Dias said the accelerated digital transformation that occurred during the pandemic "was about survival as opposed to strategy."
"Every organization had to adopt digital and if they did not, their resilience was challenged to a great extent," he said.
In a 2021 Gartner Evolution of CIO responsibilities survey, 39% of respondents indicated they were the top executive accountable for outcomes. This is a clear validation that CIOs have moved beyond a "keeping the lights-on role" to supporting other businesses.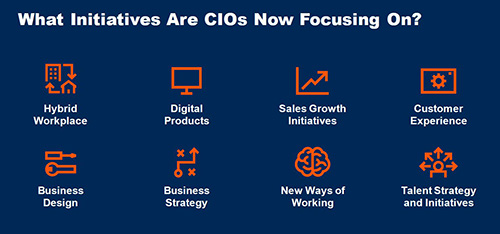 Image: Gartner
"The pandemic accelerated the need for a hybrid workplace. Now, most CIOs are focused not only on enablement but on things like business design, digital product vision and customer experience - all of which are newer fields fueled by technology," said Deepti Gopal, director analyst, Gartner.
With the greater focus on improving customer experiences during the pandemic, "personalization and hyper-personalization became a want for organizations," Kushru said.
But this could only be enabled through digital transformation, which had to be undertaken by the CIO of the company. So, the CIO moved up the value chain and became a strategic partner to the CEO and a sounding board to members of the board.
Emergence of the Digital CIO
As we emerged from the pandemic in 2022, the world was more digital than ever. Enterprise apps and infrastructure had a bigger cloud footprint; consumers in various industries expected an Amazon-like experience for services ranging from banking, telecom, retail, travel, healthcare, education, entertainment and even e-governance. Even ecosystems in manufacturing and logistics were heavily digitalized. Services had to be delivered seamlessly, on demand, with minimal latency. It is now all about the experience. A younger workforce within organizations expects the same quality of experience with internal-facing enterprise apps such as ERP, CRM, SCM, HR, payroll, financials, collaboration and communications.
Hence the CIO role is more oriented toward digital business.
"I believe that the digital business CIO is becoming much more prevalent in the industry because the CIO is no longer just an information technology consultant to the company. They are business enablers," Mistry said.
With the CIO increasingly supporting other business functions such as sales, marketing, customer engagement and even product development, more organizations are considering a separate DCxO/Digital business leader role to deliver more business value.
Mistry favors the term "DCxO" and speaks about his role transformation at his former organization Eureka Forbes. He said this transformation was necessary for enhancing customer experience or CX.
"Being the CIO and part of the core executive team, it was essential that the CIO [myself] undertook the role of DCxO to enhance the business value and proposition across the various business verticals," Mistry said.
Digital CIO, digital business leader/DCxO, business technology officer are technology leadership archetypes developing for today's CIOs, according to Gartner research.
"What we've identified in our research is that the role of the CIO is evolving and ever-expanding because of the business, market and regulatory demands," Gopal said.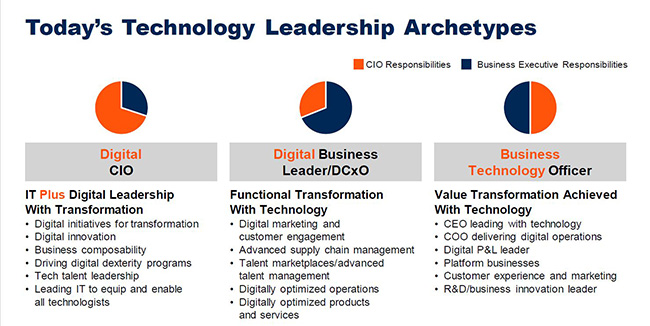 Image: Gartner
Digital CIO - This is where the digital CIO operates comfortably beyond traditional IT.
CIO as a Digital Business Leader/DCxO - This is where the CIO pivots from traditional management styles to product management. For example, moving away from looking at just transactions but also customer-centric experiences. This is a big shift and a tough one to implement but will be necessary when the market demands this shift.
CIO as a Business Technology Officer - Drives business outcomes across the entire organization with technology at the center. CIOs take on this archetype when there is a need to re-architect their organization and find new ways of working. In this role, CIOs think like CEOs.
Part 2 of this story will examine the evolution of the CISO role and how the roles of security and risk management leaders and CIO archetypes are aligned to protect the modern-day digital enterprise.