Robotics and Automation Are Driving Efficiency in Retail Industry
New Experiments Driving Confidence and Standards for Industry to Follow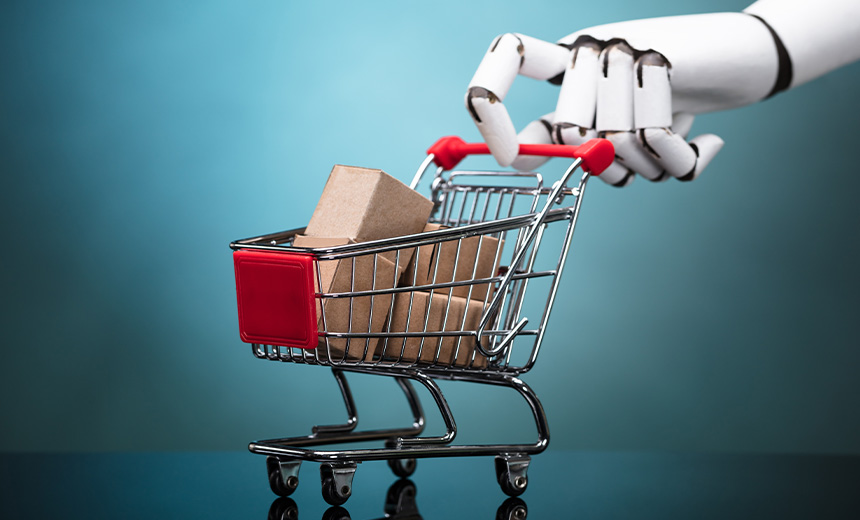 The retail industry, unlike automotive and many others, began late on its digital drive. While customer experience stayed a top buzzword, only sporadic efforts were made to fast-track automation. As a result, the industry is just 40% automated. However, it will see a steady rise of up to 60-65% over the next three to four years.
See Also: AWS Security Foundations: For Dummies
A report from Jabil titled "2020 Future of Retail Technology" says that 90% of respondents expected an increase in their spending in the coming years. Another report from ABI Research says that brick-and-mortar stores could deploy 150,000 mobile robots by 2025. More than 4 million robots could be installed in 50,000 warehouses by the same year. Orders for retail robots in the food and consumer goods sector grew by 56% year over year.
Robots are increasingly used in retail stores, especially where labor is expensive. Several experiments are taking place, including self-check-out tills in stores and the use of robots and artificial intelligence in supply chains.
According to the International Federation of Robotics, global installations of industrial robots grew 31% in 2021 year-on-year, while sales of service robots rose 37%, with the retail sector being a significant driver. The overall tech push in the industry is high. McKinsey report says that fashion companies invested between 1.6% to 1.8% of their revenue in technology in 2021 and expect an investment rise of 3% to 3.5% by 2030.
Robots in Retail: Use Cases
Walmart-owned Sam's Club in the U.S. installed about 600 robots developed by Brain Corp. for both cleaning store floors and scanning shelves to check stock levels and prices.
According to a survey by RetailWire, about 25% of retailers already have robotics solutions deployed in their environments. Almost half of those also say they will be more involved with robotics during the next 18 months.
Earlier this year, an internal memo suggested that Amazon could soon see a shortage of manpower. Shortly after that, the company issued a statement about its new robotics technology for its large network of fulfillment. Currently, Amazon Robotics has more than 520,000 robotic drive units across its fulfillment and sort centers.
Carrefour has deployed BellaBot, a robot technology from Pudu Robotics, in two retail stores in Warsaw to deliver Pepsi beverages and chips since September 2022.
Retailer Zara introduced a hi-tech solution for its BOPIS or "Click and Collect" service to resolve the issue of long queues in its stores. AI robots fetch the products from the back of the automated retail stores and fasten the in-store collecting process.
Logistics companies often encounter the challenges concerning last-mile deliveries. Slower delivery issues account for up to 28% of total shipment cost, according to research group Euromonitor International.
China-based retail giant Alibaba developed autonomous robots, dubbed Xiaomanlv, to meet the challenge of last-mile deliveries. It has set a benchmark by delivering more than 10 million parcels as of March 31, 2022, according to the company's earnings report. It has more than 500 electric driverless robots, making deliveries at the university campuses across China.
Swedish manufacturer IKEA partnered with FM Logistics (as part of a joint venture) and deployed MiR500 robots to handle leftover materials and improve logistics processes in one of its warehouses in Poland. As a result, it has relieved employees of unproductive activities, improved worker safety and optimized warehouse costs.
SoftBank Robotics made an interesting foray into robots. It developed Pepper - a semi-humanoid robot - purely driven by AI. Pepper can be pre-programmed to chat with customers, answer questions and give directions. A pilot was conducted for Pepper at tech retail store b8ta in California, resulting in a 70% rise in footfalls. This serves as a prototype of the convergence of AI and robotics and how it can drive customer engagement and experience.
Gartner's report titled "Emerging Technologies: Smart Robot Adoption Generates Diverse Business Value" found that deployments of smart robots in retail can demonstrate quantifiable results in 72% of use cases, which is the highest percentage among industries.
The retail industry is required to deploy technologies that help in streamlining processes across stores, warehouses or fulfillment centers. Automation is one of the unavoidable trends.
Cybersecurity Concerns
Not withstanding the advantages of robotics, cybersecurity continues to be a major concern. Most of these robotic systems are connected to, or hosted in, the cloud to complete automated tasks. The robots raise significant concerns not only for manufacturers and programmers, but also for those who interact with them. As these robotic systems become more interconnected and sophisticated, they broaden the attack surface. These robots are open to vulnerabilities and threats, including sabotage, ransomware, physical damages and so on. The remote-control technologies are prone to alterations without much detection, resulting into issues such as collisions and even stoppage of function.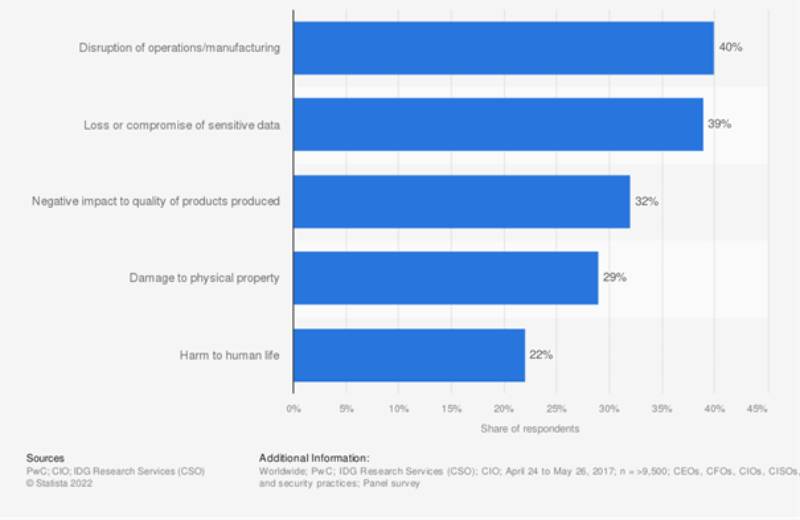 Anticipated results of successful cyberattack against automation and/or robotics systems worldwide as of 2017
In a paper titled "Cybersecurity, safety and robots" published in Computer and Law Security Review 2021, researchers claimed robotic infrastructure can become extremely ripe for cyberthreats. "The more functions are performed across interconnected systems and devices, the more opportunities for weaknesses in those systems arise, and the higher the risk of system failures or malicious attacks."
Sales in the global cybersecurity in the robotics market topped $ 3.5 billion in 2022. Expanding at a healthy 11% CAGR, it is projected to total $ 7.2 billion by 2029.
Though the usage of robots in retail is still sporadic, the results are encouraging. It will not only pave the way for the rise in adoption, but also help the industry in creating better experiences. For customers, it simply means a better shopping experience. When combined with analytics, AI and machine learning, robots can boost the value chain.