Accuracy of AI Analysis a Key Concern for AI Adopters
Indonesian Tech Leaders Say AI Use Cases Can Succeed Only With Better Accuracy
Technologies such as generative AI and ChatGPT have been widely lauded and publicized in the past few months. But what are the business use cases that can be implemented today? And what are the risks posed by this technology? Three business leaders from Indonesia offer their views.
See Also: The Age of Silo-Less Security & Operational Resilience
"It is definitely changing the way we do things today. With gen AI, we can instantly create a whole piece of literature or an image that is different, and it's capable of producing such an image with or without existing references," said Edmund Situmorang, group CTO, Asian Bulk Logistics.
Technology is "unstoppable" and "undeniable" and an opportunity for every business, said Wilbertus Darmadi, CIO, Toyota Astra Motor. Yet some enterprises are adopting a "wait and see" approach and are reluctant to embrace AI.
"Instead of waiting, why don't they ride the wave? They should trust the technology. Yes, some business use cases are premature, but we can at least try to implement them," Darmadi said.
AI "has gone behind the hype stage" and many industries are now using the technology, said Setiaji Setiaji, chief of Digital Transformation Office at the Ministry of Health, Republic of Indonesia.
"We need to have some more use cases for this to make some disruption," Setiaji said. Gartner has positioned AI on the Peak of Inflated Expectations in its Hype Cycle for Emerging Technologies (see image) for 2023. Going forward, AI will move pass that peak and decline into the Trough of Disillusionment on the hype cycle and eventually ascend toward the Plateau of Productivity - where it will become mainstream in business applications. Gartner says AI will reach transformational benefit within two to five years and is now creating opportunities for innovation.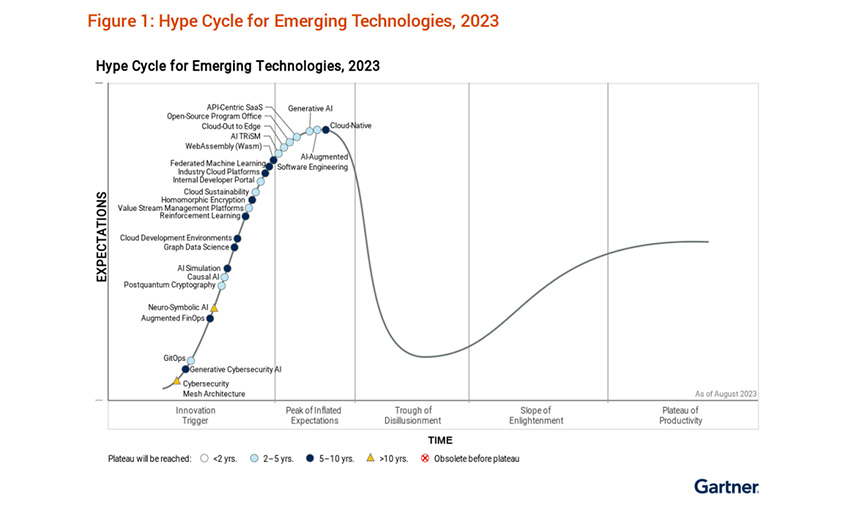 Source: Gartner
Automotive Use Cases
The three panelists also spoke about some business use cases in their respective industries (logistics, automotive and healthcare) and discussed the AI projects they are currently working on.
The automotive industry is one of the foremost industries to explore AI, machine learning and related technologies, including computer vision. The autonomous vehicle is a product of that research. But the industry is also applying AI in other areas, such as monitoring driver behavior, enhancing passenger safety, preventive maintenance, and improving the driving experience. Toyota Astra Motors is doing development work in these areas, Darmadi said.
Toyota started installing telematics sensors in their cars two years ago. The sensors record data about driver behaviour, which can be analyzed. "AI will alert drivers about rash driving. Through AI, we also want to give our customers suggestions when they are driving," Darmadi said.
Every Toyota car has a vehicle maintenance schedule during which the data collected from the vehicle is analyzed.
"Based on what we learn from the analytics, we can predict if something is going to fail in future - and prevent it before the failure happens," Darmadi said.
Healthcare Use Cases
Setiaji said the use cases for AI in the healthcare industry can be broadly classified as clinical and non-clinical. Clinical use cases are slow to emerge as more precise results are required, he said.
"Take cancer, for example, and how one uses AI to interpret the image from an MRI scan. There is still some debate about the accuracy of the result in Indonesia," he said.
Setiaji said there are non-clinical uses cases, such as draft recommendations and referral system, which can improve doctor efficiencies.
According to an article by Kompass, the doctor-patient ration in Indonesia is just at 0.6:1000. Given the shortage of doctors in the country, AI can positively impact patient care.
Setiaji shared more potential use cases for AI. For instance, there will be models to analyze a person's DNA for drug treatment and tuberculosis. "We can use AI to analyze the pathogens as we did with COVID earlier, and to detect new variants like Omicron," Setiaji said.
Logistics Use Cases
Situmorang said AI can make logistics competitive and will lead to several changes. He said one should use AI modelling to identify challenges and opportunities.
He shared an AI project undertaken by his team, exploring the use of ChatGPT 4 to scan for all the latest logistics industry news.
"These are early projects, but with the capabilities of generative AI, we are capable of understanding languages. With deep learning and even computer vision, we're able to create images," Situmorang said.
Business Risks
While generative AI offers immense benefits, adopters should also be wary about the risks involved. Business processes needed to be adapted, usage policies for governance need to be defined, and there need to be strong controls to prevent misuse of AI. We asked the panelists about their concerns.
"This is a new technology, and I am concerned about the accuracy of the results. If we are talking about analytics and if we are expecting it to come from AI, we need to understand that AI and machine learning are dependent on the data sources. If the data source is not adequate then the accuracy can be degraded," Darmadi said.
Darmadi warned about inaccuracies that can give drivers false alerts and incorrect information about the health of the vehicle. He also emphasized issues regarding data privacy and data biases.
"We need to consider the privacy aspects of data before we feed it to AI because if we are not paying attention to that, the customer's privacy could be breached," he said.
Situmorang concurs with this view and advised "extra care" to analyze the information. In the healthcare industry, Setiaji said, it poses a life and death situation.
"Apart from the accuracy of the data, we need to look at the results of the analysis done by AI. We cannot do [clinical] trials with people because if something goes wrong in the AI analysis, it can lead to death," he said.
Situmorang said it's imperative to attain validation from technology adopters - doctors and specialists - to mitigate AI risks on healthcare.
"The other factor is data security. They are strict about the security of medical records, for instance. So we need to secure the data," Setiaji said.
Conclusion
The panelists said they were currently testing waters for AI use cases. Useful applications will emerge with iterative improvements in core models and algorithms.
Before that, there are some preparatory tasks to be done, including addressing data quality, data security governance, and privacy.
Only then can we be assured about the accuracy of the AI analysis. And with that, we will see increased adoption of AI and cutting-edge business applications.
Situmorang has more than 15 years of senior management experience in multiple businesses across verticals and horizontal streams. He has served in financial services industries such as banking, insure-tech and fintech.
Darmadi has more than 26 years of experience as IT professional especially in automotive industry. He has worked with multinational stakeholders, team and partners and has helped companies boost business performance using latest technologies.
Setiaji is a digital leader with experience in the development of smart cities and digital transformation in government. Previously, he was head of ICT for the West Java province. He also led projects at Jakarta Smart City and served the Jakarta Regional Planning Board.